Finally, Apple broke the ice and introduced a new Dynamic Island feature with iPhone 14 pro and pro max. Although people were curious about what apple was doing with the notch design, it was predicted that a pill-shaped cut-out would be introduced for a true depth camera cut-out.
When Apple announced this dynamic feature and explained the software functionality behind this clever cut-out, people were more surprised because they did not expect so many things connected with it.
What Is A Dynamic Island?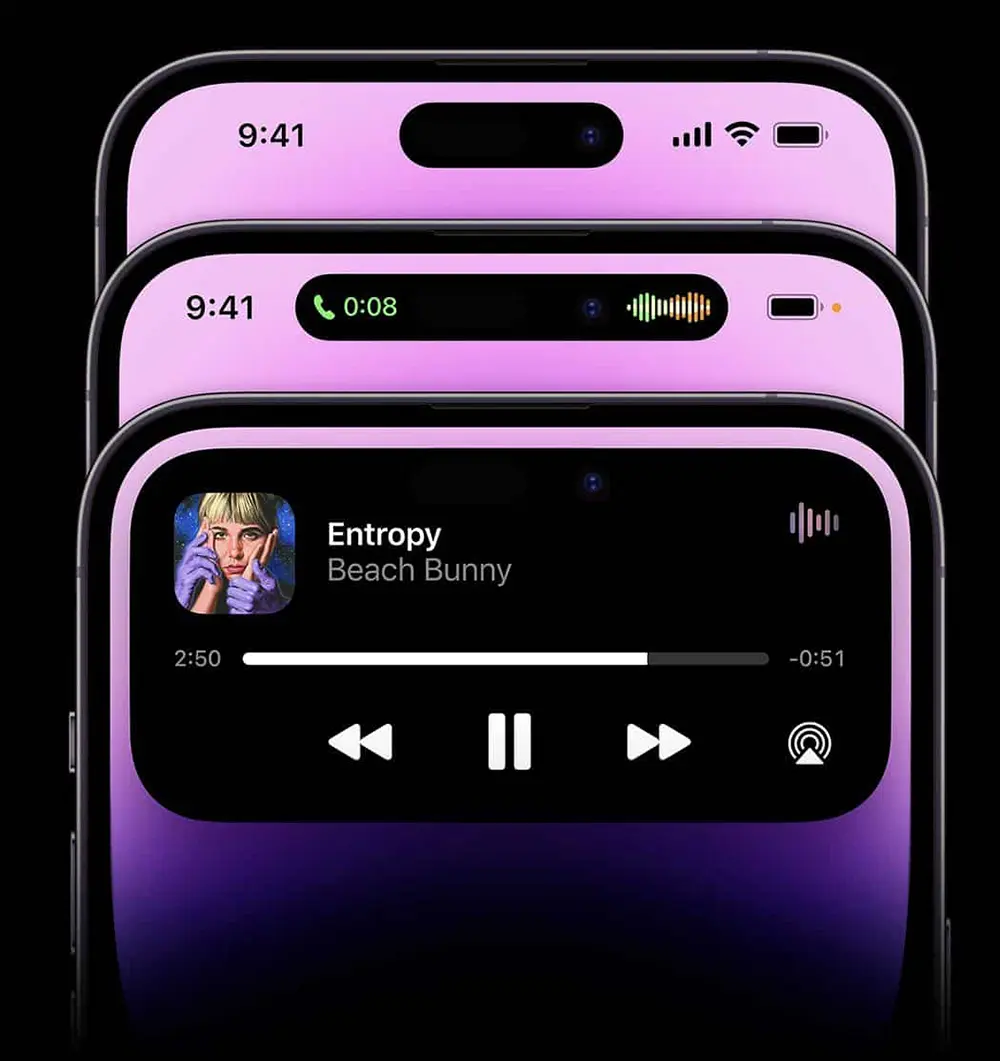 For face authentication, hardware needs two cut-outs; the area around these cut out can interact, so Apple works on it and use this space to show content. That is the basic idea behind the dynamic island. Likewise, a black pill-shaped bar at the top of your iPhone screen is a dynamic island.
Apple is a fantastic company that, in the real sense, devotedly works and puts efforts into converting dead space in apple phones into a genuinely helpful way. This feature is made by combining hardware and software that works together. So, when your phone gets different actions and notifications, all these will appear on that island at the top of your screen.
Dynamic Island Layout.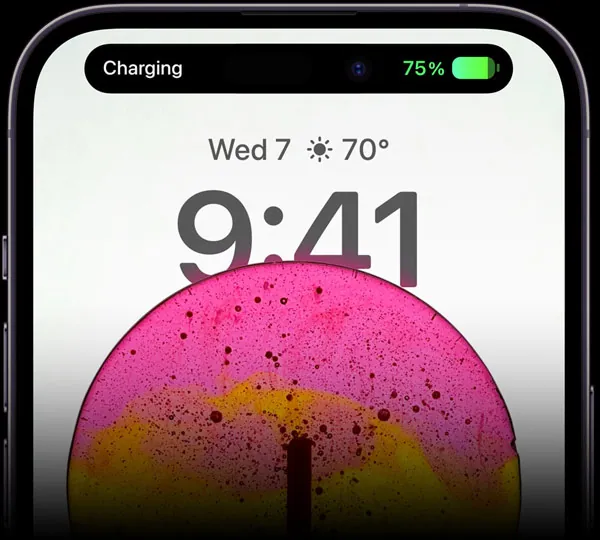 The shape and size of the dynamic island morph according to the different actions like text alerts, incoming calls, alarms, face identifications, and low battery alerts. This dynamic black cut-out takes 30% less space than the standard notch. In addition, it can change into square and rectangular shapes according to the task, making it feasible for you to control the apps.
Functions Of Dynamic Island
The dynamic island works with background alerts and live activities or ongoing tasks. We can be notified about important alerts or information that we want on our lock screen. it is a pretty cool feature that also saves us time. Here is a list of notification alerts and live updates.
Low battery alerts

Stopwatch alerts

Reminders alerts

Battery life alerts

Air pods connections

Airplane mode on or off

Weather updates

Accessories connections alert

Phone call alerts

Text Alerts

Confirms transactions.

Updates of hotspot connection

Face identification alerts

Status of sim card

Silent mode notification

Phone charging alerts

Locking/unlocking of smartwatch

Voice recording

Screen recording updates

Live game score updates

Live music player

Uber app updates

Ongoing map directions
Phone With Dynamic Island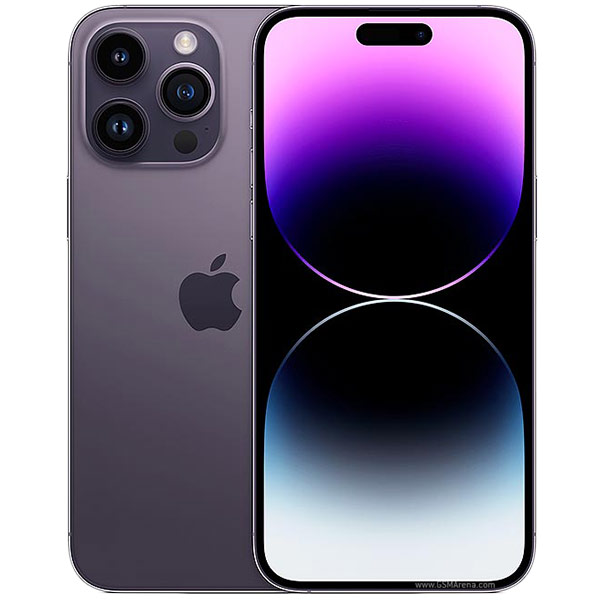 Currently, iPhone 14 pro and pro max have this unique cut-out feature. Additionally, the dynamic spot app has been shown in the google play store for androids, a clone of iPhone pro dynamic island.

How To Download Dynamic Island iPhone 14 Pro Max?
There is no hassle to download or install dynamic island on your iPhone 14 pro max. Because it is a default part of the iPhone interface, You will find a pill-shaped bar at the top when you unlock your phone.

How Can Dynamic Island Be Disabled?
As we have discussed earlier, the dynamic island is a default program of iPhone UI, so we cannot disable it at once. Likewise, we cannot turn it on or off. In the future, we can find some options to deal with this. For example, if you feel that dynamic island content distracted you, you can swap the content across the dynamic island while watching a movie. The dynamic island will change into an inanimate status and will not disturb the background Activity.

Advantage Of Third-Party App Developers
Third-party app developers have been allowed by apple to launch and create other fun additions to the dynamic island so people can enjoy and take more advantage of this dynamic island online. In this regard, some developers have created fun games and activities to take advantage of this dynamic island. Some games have been launched for the dynamic island. Suppose third-party developers put their potential into creating and developing new apps for the dynamic island. In that case, there is a chance to get the most impressive and stunning features in the future.
Types Of Sensors In Dynamic Island
The Apple company had to re-engineer the proximity sensors to achieve the desired results. To detect the light coming from behind the display, a proximity sensor is used for this purpose and saves other space. Another advantage of proximity sensors is that it reduces the actual depth camera size. And this is the reason this cut-out design is smaller than the other notch.

What Is The Main Advantage Of A Dynamic Island?
We can save valuable time with this feature. In different apps, we can control our activity time by setting a time duration in this pop-up bar. This feature enables easy access to running applications with just one click.

How Can We Effectively Use The Dynamic Island Feature?
We can use the dynamic island to manage our most valuable time. We can set a timer that will appear in the black bar (dynamic island) to count our presence in different applications. We can easily move to running applications without any complexity and time loss.
How Do I Turn On Dynamic Island On My iPhone?
In fact, the dynamic island is part of our default UI. So he doesn't have the option to turn it off and on. It always works and our interface is the most attractive and smooth.
Is Dynamic Island Only For iPhone 14?
By default, the dynamic island feature is only available on the latest iPhone versions. But now developers are quickly creating its clones and some are available in various app stores.
Can The Dynamic Island Be Disabled?
Dynamic Island, which is a default part of the iPhone interface, cannot be disabled. But if we install a dynamic island app present in the play store for our android app then we have the option to enable and disable it in the android system.
Where Is The Dynamic Island?
The dynamic island covers the location of the front-facing camera and sensors, creating an eye-catching black bar that, however, animates when any notification comes through. The camera and sensor space are not displayed and the animated space decorates the user interface.
Which Apps Support Dynamic Island?
All default iPhone apps support the dynamic island. And other Ios-supported apps will soon try to code this feature into their apps to reap its benefits. Because every company wants to show their announcement to market their launches.
How Do I Hide The Dynamic Island On My iPhone?
We can customize the dynamic islands in our iPhones, but we will never hide them. The first version with this feature has no option to hide it. However, it is possible that this function will have other setting options in the future.
Does Dynamic Island Work On iPhone 13?
The iPhone 13 was the first Apple device to feature a dynamic island. So it works on iPhone 13 and in the future, Apple will tweak this feature nicely to get preference from all other mobo device companies.

How Many Activities Can You Manage At A Time?
The dynamic island can tackle two background activities at a time. For example, if you set a reminder or want to set the alarm, it will display in the dynamic island on the left side of the pill. Besides that, if you want to enjoy music, you can also play music, and you can see it on the right side in a rounded shape pill. You can manage both at a time on the lock screen of your mobile. You can also swap their positions. By long pressing the desired icon, you can get the widget display, and you can have the controls for music;
you can see pause or play options and forward and back options.
You can use two live activities on the lock screen without interacting with your device. First, you can get an estimated arrival time for your uber ride and directions and information that uber can provide you. If your phone is off and you are busy with other activities but want to know your favorite match score updates, this unique feature will be handy at that time, and you will get that information at the top of your device.
You can enjoy the dynamic island by purchasing an iPhone 14 pro max master copy from us. This is going to be the same phone in look but it will be an iPhone 14 pro max replica. This option is for budget buyers so that they can live the experience by getting an iPhone 14 pro max clone. The iPhone 14 pro max duplicate is going to give you the chance to show off to your friends, buy your copy here.